No rain = Drought resistant plants
One of my friends popped into the centre this morning for a quick look around and so we started chatting about everything and anything, as you do. The subject steered onto the articles and she asked me what is it going to be this week. Truthfully I told her I had no idea. Next week one is planned and all, but this week is a mystery. No pressure. Not one to panic I started thinking, but nothing really felt right and so I went back to work and watering. This seems to be the only thing we do for the last 3 months by the way. Watering and getting tanned. We will discuss in today's blog about the drought resistant plants.
Then it hit me, some of my plants are doing much better than others, there is no visible wilting and most of them have started blooming. This was going to be the thought for this week's writing, this should have been there ages ago already! Plants that do not mind a bit of neglect and dry weather should have been listed and displayed front and centre because even the best of us cannot keep up with watering in that long a dry spell.
Before we will happily plonk our tough babies into the soil and try our best at ignoring them it is still good to invest in their surroundings. Fertile soil never killed anybody yet and so use some good stuff to enrich your ground. I always opt for Living Green, but nowhere says you can't use manure, seaweed or anything else you have going.
Even though the plants are drought tolerant I would suggest giving them initial drowning, just to help them root in. The last thing that could be considered is mulch. This will ensure keeping water from evaporating quickly and will reflect blazing sun and heat away from the greenery. Protecting from slugs and snails could just be an added bonus.
Now to the drought resistant plants themselves.
As usual, I am considering shrubs and perennials mixed for a year-round interest.
The first shrub that comes to mind is The Smoke Bush- Cotinus coggyria. It is a deciduous shrub with stunning dark red foliage and wispy blooms that look like little wigs.
Match it with Convolvulus cneorum, an evergreen silver stunner with white flowers for a bit of contrast. Sarcocoa confusa which flowers in the wintertime can also be a good match.
Other shrubs worth mentioning are:
Rosmarinus
Yuccas
Eleagnus
Euonymus
Ceanothus
All of those are tough, and easy-going and will help create the "backbone" of your dry area in the garden.
For extra display of colour in the summer months- perennials.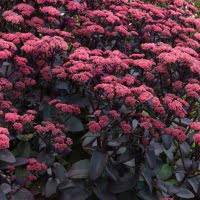 I just have to start with Sedums, there is no denying it, those babies will simply thrive in a dry and sunny location. What's more, they will produce clusters of beautiful blooms ready for pollinating insects.
I think my favourite Sedum has to be Purple Emperor.Colour is key and this plant delivers one hundred per cent.
Lavender or Russian Sage would create a stunning backdrop to my Sedum. Stachys Byzantina, Eryngium, Agapanthus, Achillea and Erigeron karvinskianus will all mix extremely well also. Neither one of them will ask for much, and all of them will give a lot.
Throw in a few types of grass like Stipa Gigantea or Miscanthus Morning Light to create this light look and add movement. Very simple yet very effective. This selection will definitely be a talking point of many conversations, a stunning display in your garden and safe haven for bees, birds and butterflies. And what is most important, it will also be easy to keep alive in those hot Irish summer months!
Thank you, Magda O' Byrne